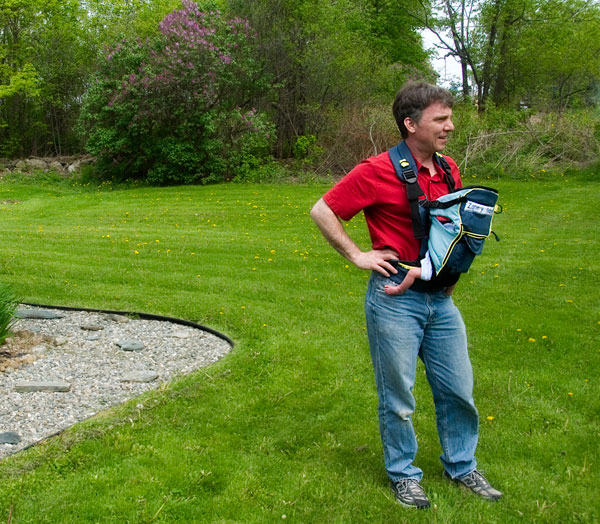 Look at that leg! He may be a little 7 lb peanut but he sure has some long legs. Thanks to Faith's friend Ellen for the customized belly carrier. Zane's still a bit lost in it (you might be able to see his face through the arm hole), but he'll grow into soon enough I think.
The three of us made our first trip to *mart a few days ago for nursing bras and a few other baby accessories. We've hardly purchased a thing for Zane so far. Our friends Janet and Paul, who's little boy Tyler "Smiler" is now four, has been passing on tons of clothing, toys, furniture, and equipment for little Zane. Janet's also been a wonderful help for local advice and consoling and tales of baby mis-adventure, along with organizing and hosting the baby shower. We've also received baby gear from Heather & John, Dwight & Gayle, along with wonderful shower presents from family and friends (I'm working on thank you cards, I swear!).
We got to the checkout line at *mart and the 20-something checkout girl asked how old Zane was. "Four days? No, almost five now." I answered. She smiled, rang a couple things up, paused, and said, "So, uh, you are his Grandparents?"
Zing!